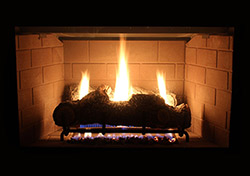 A gas-fired fireplace brings warmth to the heart of your home! While wood-burning fireplaces require you to deal with firewood and ash, a clean-operating gas fireplace can save you from all the hassle and messes!
We can install modern to contemporary fireplaces. What's more, our service doesn't end when the install is finished, we will be there for years to come for your annual maintenance and adjustments.
We sell and install fireplaces from top manufacturers, including:

Since 1979, Regency Fireplace Products has proven to be a world leader in the design and manufacture of hearth products. Firmly believing in high quality, good value, clean burning efficiency, and a beautiful aesthetic when it comes to fireplaces, Regency creates quality products that bring people together.

White Mountain Hearth built its reputation on quality, service and delivery - with fireplace products that add warmth and value to any home. Featuring a wide range of hearth products, including vent-free; direct-vent; outdoor; cast iron stoves; and mantels, the right White Mountain Hearth fireplace for your home won't be difficult to find.



Family owned since 1932, Empire Comfort Systems is committed to building high-quality products that serve the customers' needs. Their full line of gas-fired products manufactured in the USA include the latest in affordable, efficient and artful heating solutions.


Enjoy consistent and controllable heat with a brand new fireplace installed in your home!