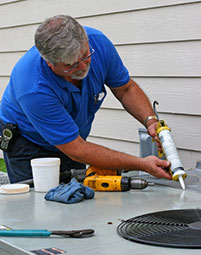 A sophisticated, modern air conditioning system must be installed properly, or the efficiency could be reduced by as much as 30 percent, according to the U.S. ENERGY STAR® program. When you invest in new AC equipment, a high-quality installation is a must.

Alger Oil & Propane's installers are seasoned professionals who understand today's sophisticated air conditioning equipment. They are committed to performing precise installations every time, and they have the knowledge and the tools that the job requires. Once they set up your system, they test it thoroughly with advanced diagnostic equipment to ensure that it is performing in accordance with manufacturer's specifications.

Alger Oil & Propane has a larger service and installation department than most companies our size, because it is our mission to provide superior service every time. Our installers will give your installation the time it requires without being rushed off to another job.
In addition to expert installation, financing for new central and ductless air conditioning system installations are available – learn more on our Financing Page.